SSR GTX04
Description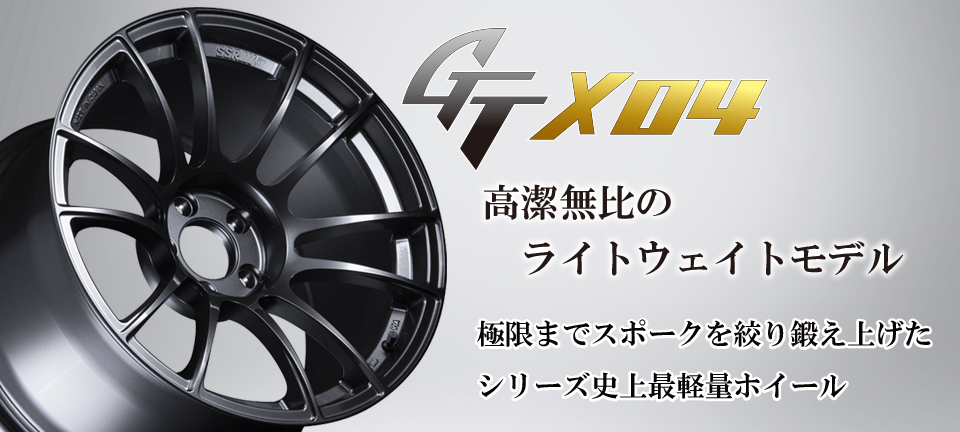 ---
Size / Offset / Width / Pcd :   SPEC LIST(PDF)
*Please contact us for more information
---
COLOR VARIATION
REPAIR PARTS・GOODS
ALUMINUM AIR VALVE

HUB RING with BRIM

RACING STEEL NUT (BLACK)

STICKER

SSR ALUMINUM RACING CAP
SL

SSR ALUMINUM RACING CAP
LOW

SSR ALUMINUM RACING CAP
HIGH

SSR ALUMINUM RACING LOCK NUT
19HEX M12×1.5 or M12×1.25
FEATURES
SPOKE

The cross sectional area of the spokes is designed to be small as possible for overwhelming lightness.
The top surface of spoke is especially thin for expressing light weight..

CENTER PART

The thickness of center part is completely reduced by setting the different height optional center caps.

FACE

There are three types of face, SMI (semi concave), CV (concave) and SC (super concave).

RIM PROFILE

The shape of the rim is thoroughly reviewed to make it thinner and lighter.
SSR unique flow forming technology, FFT-R method, that almost rivals to the forging makes it possible.

OTHER FEATURES FOR LIGHT WEIGHT

Shot peening
The shot-peening process improves strength by forging the surface.
The cross-sectional area can be reduced by about 13%.

Scraping off
By the rigorous strength analysis, any excess part is scraped off.