ZIEGIII TYPE-R GRADATION
Description
The final form of the ZEIG series, which has been tempered by SUPER GT contestants. An active model using the LOWMAX System, which realizes the maximum low position.
The ZEIG III type-R, which could be called the final form of the ZEIG series, has been designed and developed through experience in SUPER GT. It is designed to firmly hold the driver even when cornering at high speeds, and to envelop more deeply than any BRIDE model to allow for reliable driving operation. The design of the shoulder support and waist region support focuses more on hold performance than ease of boarding/exiting.
By positioning the seat rail in structure and deepening backrest shape with the patented BRIDE's LOWMAX system technology, we achieve the maximum low position in cars with limited interior space/head clearance as well as the ideal driving position.
The shell is available in 3 materials, carbon aramid, super aramid black, and FRP silver. Another feature of ZIEG III type-R is its abundant color variations, namely gradation logo, black logo, black, red, and blue.
The ZIEG III type-R is a FIA-compliant model.
This is a comparison diagram for the ZEIG III and ZEIG III type-R shapes.
The gray line is the standard shape ZEIG III, while the red line is the ZEIG III type-R. The ZEIG III type-R has a shell shape which increases holdability.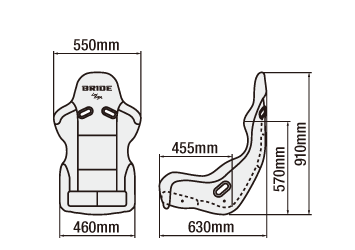 Product Lineup

   Silver FRP shell  ( F67GMF )  7.4KG
   Super aramid black shell  ( F67GZR )  7.4KG

   Carbon aramid shell  ( F67GMR )  6.9KG
ZIEGIII type-R Gradation Logo
FIA Approved : YES
Fabric : Flame retardant fabric
Please contact us directly for pricing and availbility.